Mountain Water
is cared for by
Joan Anderson
and
Robert Spellman
– both have deep and life-long experience as artists, teachers, and meditation practitioners.
Mountain Water Retreat is in Huerfano County, Colorado. The land is 240 acres of mixed grassland and piñon-juniper forest, at an elevation of 7,400-8,000 feet above sea level. Mountain water is a place for artists to practice sitting meditation and visual and verbal arts.
The custom of outside sitting meditation was popularized twenty-six centuries ago by the Buddha. Contemplation of the natural world has a way of putting to rest worldly worries and fixed views/perspectives, and can act as a refresh for our native creativity and aesthetics. Mountain Water is a fortunate refuge in these trying times. (paraphrased from the MW website)
---
MW 1 "New Spirit of Nature" (October 2022)
In October 2022 I spent one week at Mountain Water (w/
Jennifer Lord
), making a lot of art (videos, frottages, writing/poetry, sketches, GAN collages), meditating (ghatika, morning & night; trataka, shamatha, and vipasana), being in the wilderness, reading, experimenting, & so on.
... hiking, sleeping in a paranormally illuminated oak grove, hand-bathing naked outside in the cold, using an "outhouse without the house", conserving water, eating all the home-made bread I wanted, being mindful of the most awesome panoramic view and surroundings, "music never stops – only listening", daily
Oblique Strategies
, enjoying some of the best company, trying to be helpful, making jokes & laughing, living life "in a good way", and caring for the place and one another.
Sky/Earth (high/low) demos 1
Eight Fantasy (GAN) Portraits (of the Far Mountains)
01
  bright blue sunrise wings
  sky/ies of pink wings & feathers
  bright pink joy bliss of all eternity / magenta bliss joy of eternal feathers
  pink bliss joy sunset cloud feathers
  dancing on the corpses ashes
  most gentle black metal in the distance
  snow lion sky chimera(s) (colorado mountains)
  paranormally illuminated oak grove
  bright light mountains (oil painting)
02
  new mountain spirits of nature
  running stallion sunrise(s)
  winged sun (max ernst)
  warrior of the great sunrise/mountain
  winged female nature spirit in colorado mountains
  mountain water (ghibli)
  cosmic dark divine feminine anger
  paranormally illuminated oak grove
  bright light mountains (oil painting)
03
  beautiful brown mountain spirit creature(s)
  bird butterflies flock across mountain(s)
  bright cave of light (oil painting)
  four winged salt bush(es)
  new (mountain) spirit of nature
  sunrise copper statue(s)
  warrior of sunrise above mountains
  bright light mountains /(oil painting)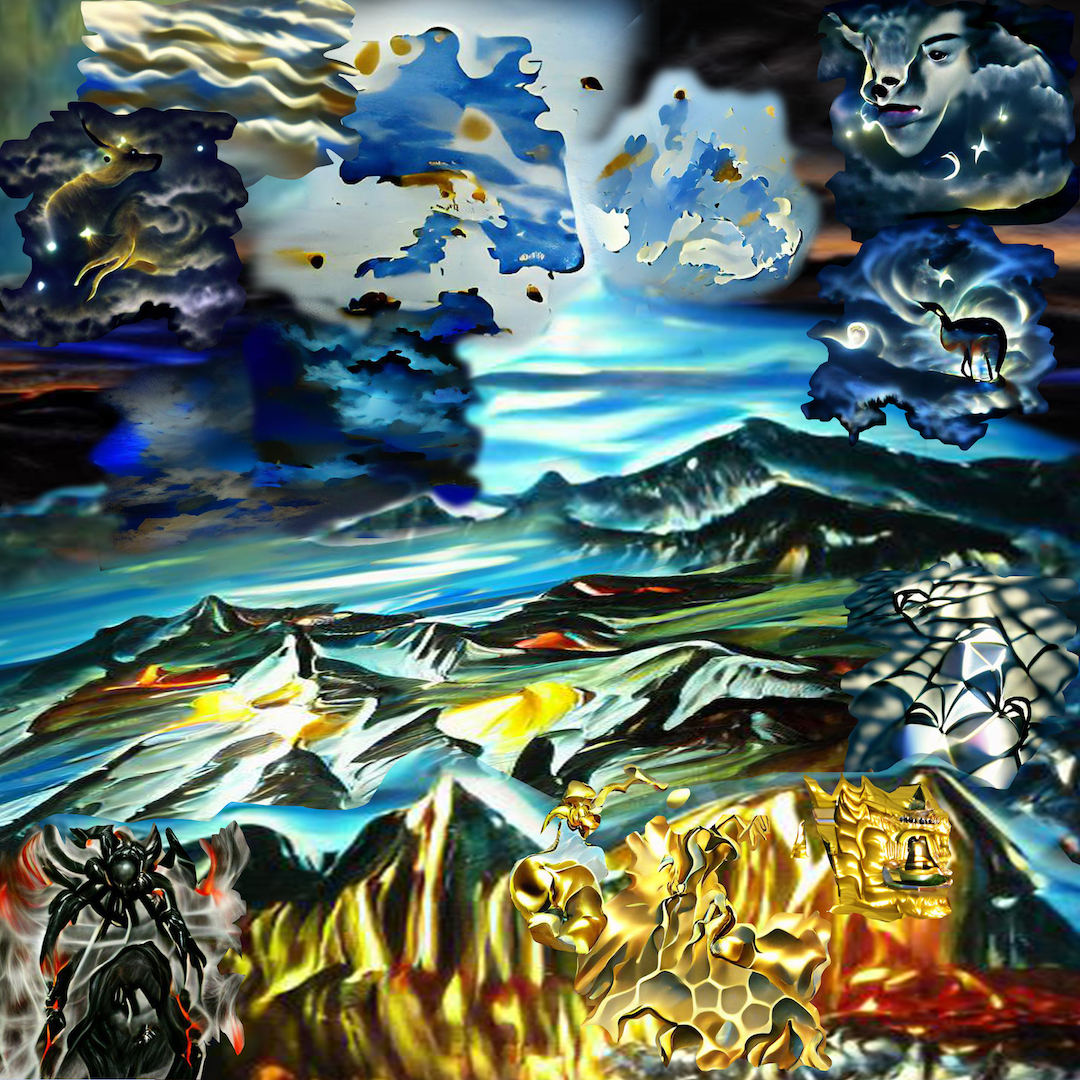 04
  beautiful creatures in a night time sky/ies
  wrathful black widow deity
  bright blue sky/ies fades into dark nights
  bright light mountain sky/ies (details)
  diamond in jeweled web shadows
  discursive waves sky
  gold shambhala temple
  gold utopia(s) (& shambhala temple)
  dark blue sunset panorama
  blue sky oil paint smear
  shark teeth heaven mountain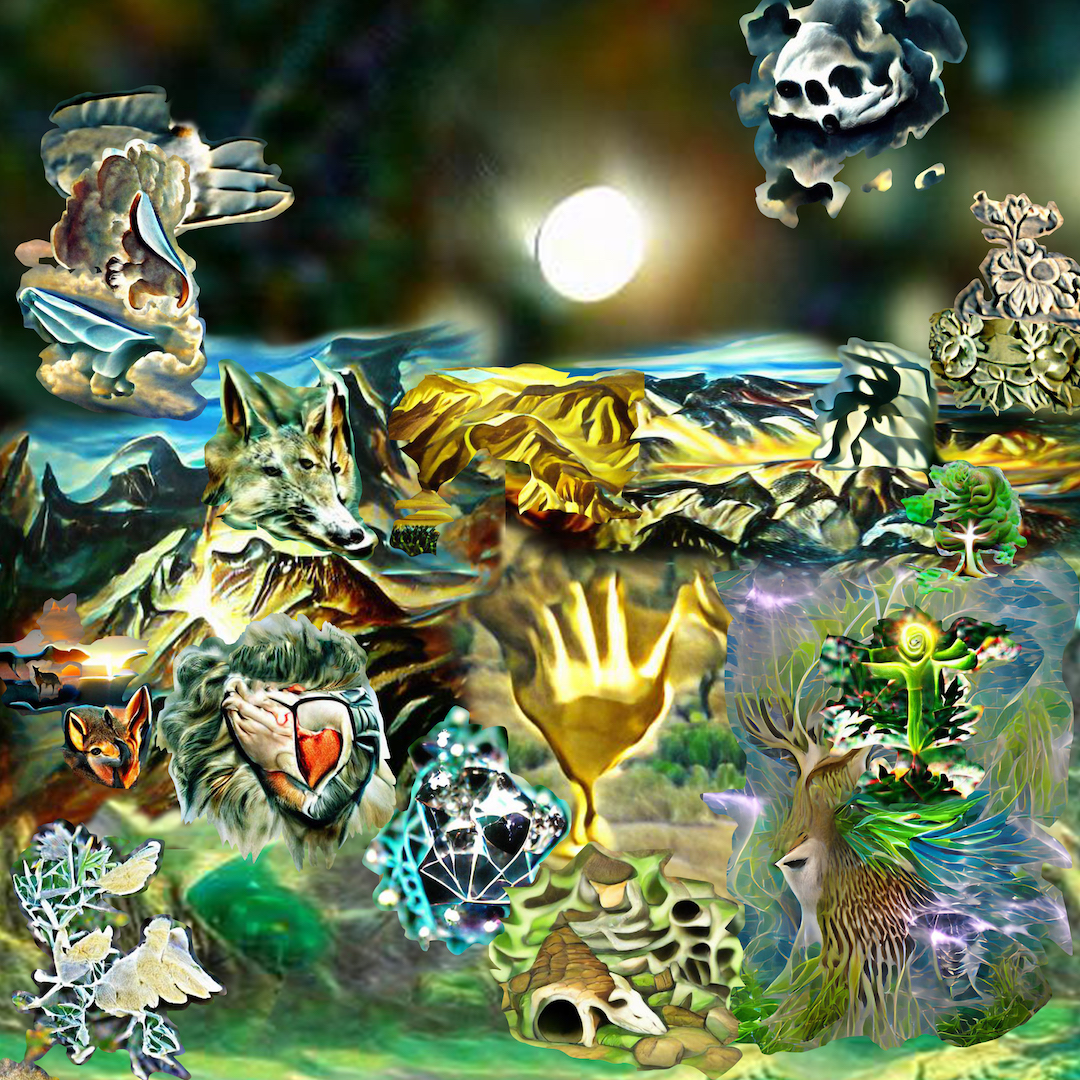 05
  coyote sunrise(s) (& in the night)
  diamond(s) in a jeweled web of space
  flower ornament plateau(s)
  four winged salt bush
  golden valley (open) hand(s)
  hibernaculum
  most tender courageous heart
  nature god that does not yet exist (x2)
  new spirit of nature
  shadow dancing upon itself
  skull of black clouds
  wild golden valley (oil painting)
  mountain water (oil painting)
  bright light mountains (oil painting) (x2)
06
  far-away eyes blue sky
  new water spirit of nature
  wrathful black widow deity
  bliss queen (frazetta)
  coyote (in the night)
  sunrise running stallion
  sunrise tiger (x3)
  winged female nature spirit(s) in colorado mountains
  spring (wild)flowers running wild in the desert (x7)
  shark teeth heaven mountain
07
  falcon flying cloud(s) (chimera)
  new spirit of nature
  shadow dancing upon itself
  strange, ecstatic balance
  (long) white unsheathed blade feather(s) (wing/sword)
  the shadows of the waters is blue
  winged serpent (sunrise) (chimera)
  waves of discursiveness / discursive waves (sky)
  mountain water(s)
  shark teeth mountain treeline peaks
  bright light mountains (oil painting)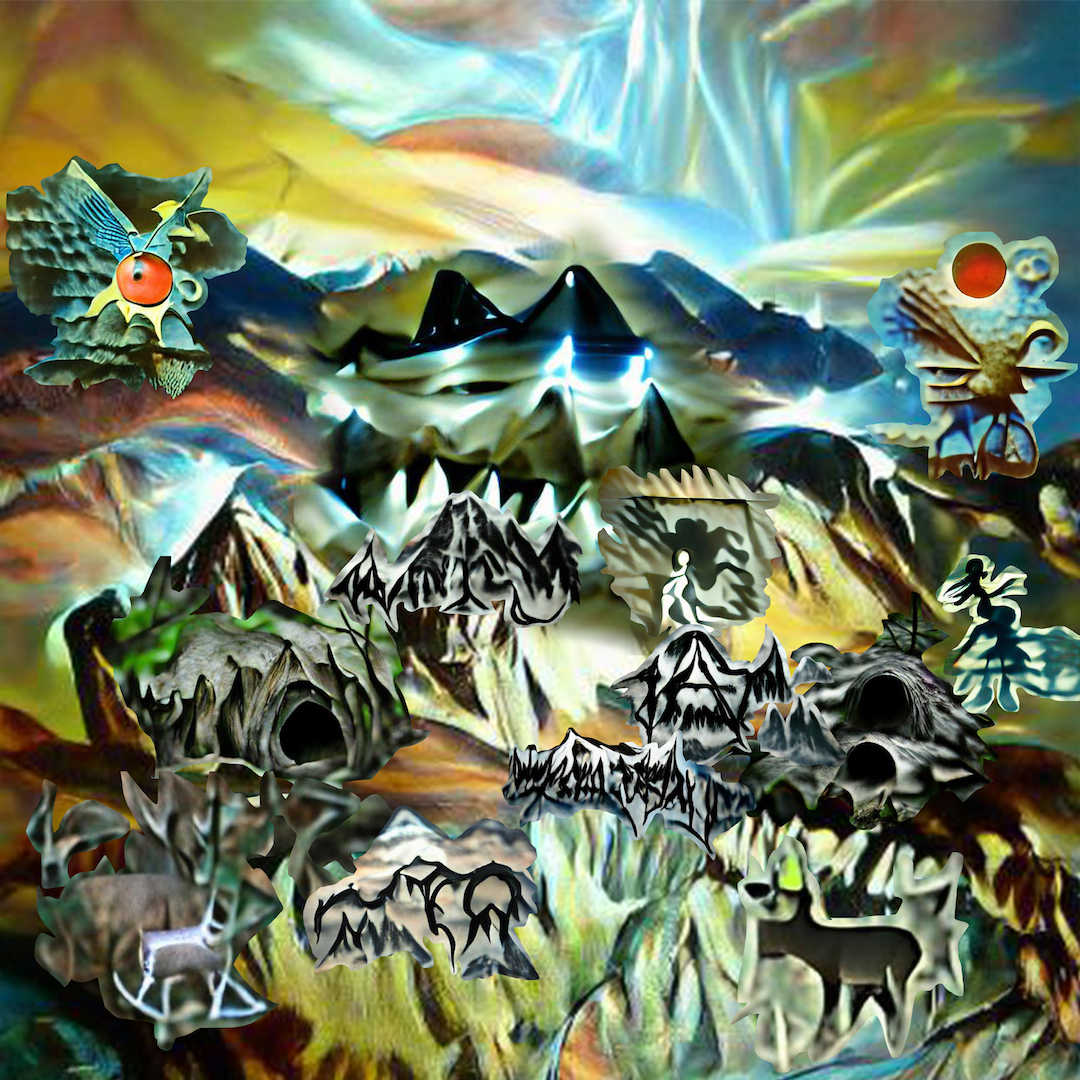 08
  shadow dancing upon shadows (/ itself)
  aluminum foil guitar solo sky
  dark hibernaculum(s)
  stealth four point deer(s)
  shark teeth bright light mountain
  black metal logo mountain(s)
  bright light mountains (oil painting)
"place synth GAN map 1"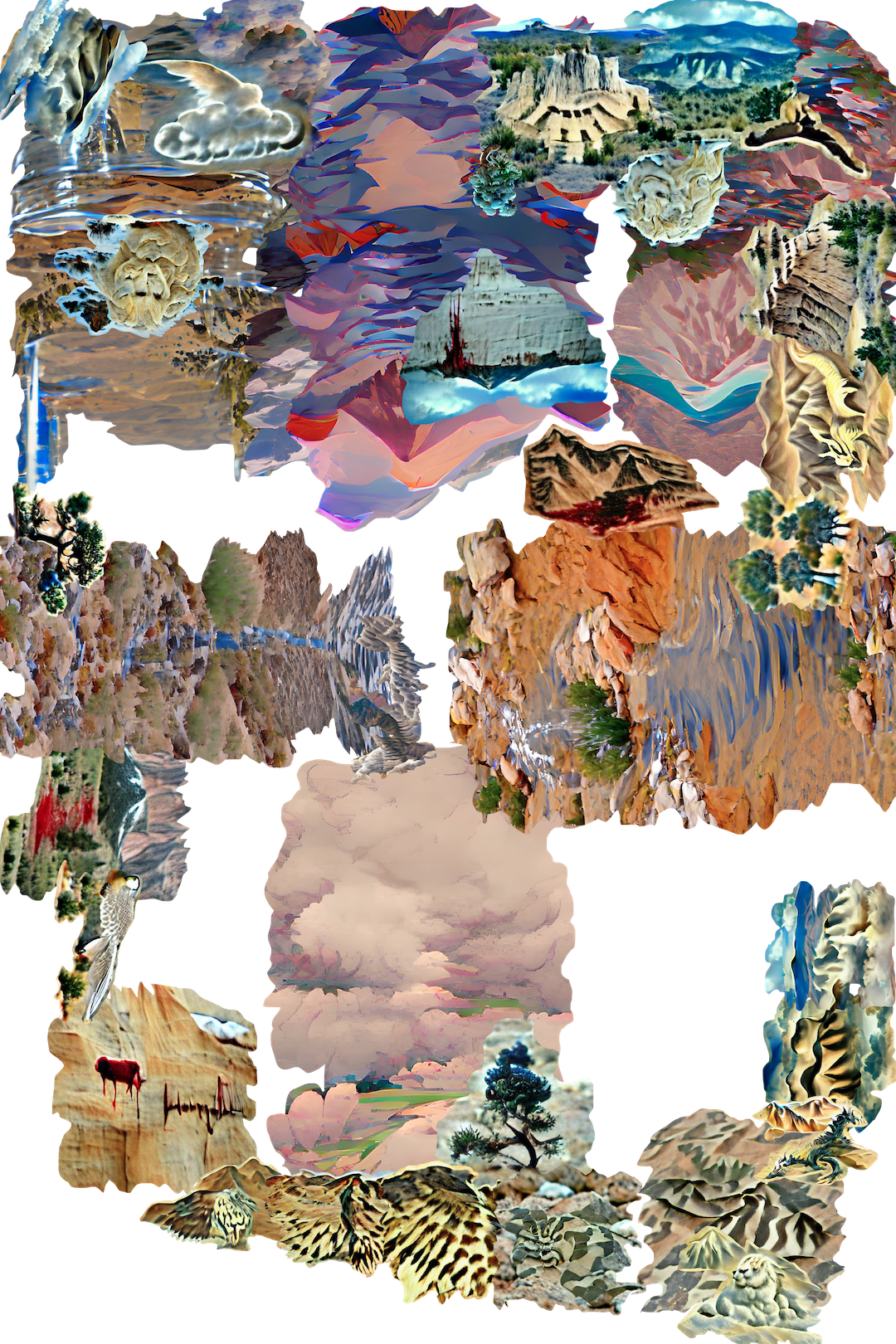 flying falcon (landscape) cloud / soaring
  high desert aztec temple colorado mountains (mult.)
  high desert colorado mountain water (mult.)
  cloud high desert mountain(s) /colorado
  high desert trees (mult.)
   piñon
   juniper
  high mountain desert bird of prey (mult.)
  high mountain desert camouflage (mult.)
  high mountain desert dragon (mult.)
  high (colorado) mountain(s) desert snow lion(s) / chimera(s)
  huerfano colorado sangre de (anti)christo
  landscape weather(s)
  (many) mountain water(s)
---
(Appendages '22)
(appendage 1)
  discursive waves (some orange & pink)
  snow falling on the ocean (bright snow falling on dark ocean)
  bliss queen and princess trick mirror (frazetta) (duet)
  four winged salt bush
  coyote sunrise(s) & in dark water
  blue butterflies murmuration
  sunrise copper statue (duet)
  the shadow of the water is blue
  golden valley (w/ hand)
  wild golden valley (oil painting)
  beautiful creature(s) in night time sky/ies
  new (mountain) spirit(s) of nature
  cosmic divine feminine anger
  purple goddess geode (frazetta)
  bright pink joy bliss of all eternity feathers
  explosions in the sky
  sunset panorama (dark blue)
  sunrise tiger
  bright light from high above
(appendage 2)
black metal logo teeth
sound system megalith(s) (multi.)
deep forest discursive waves (multi.)
wrathful black widow deity/ies
bliss princess & queen(s) (frazetta)
spring wildflowers running wild (multi.)
mother earth's breasts
new mountain spirit of nature
many-breasted goddess
Exhibition views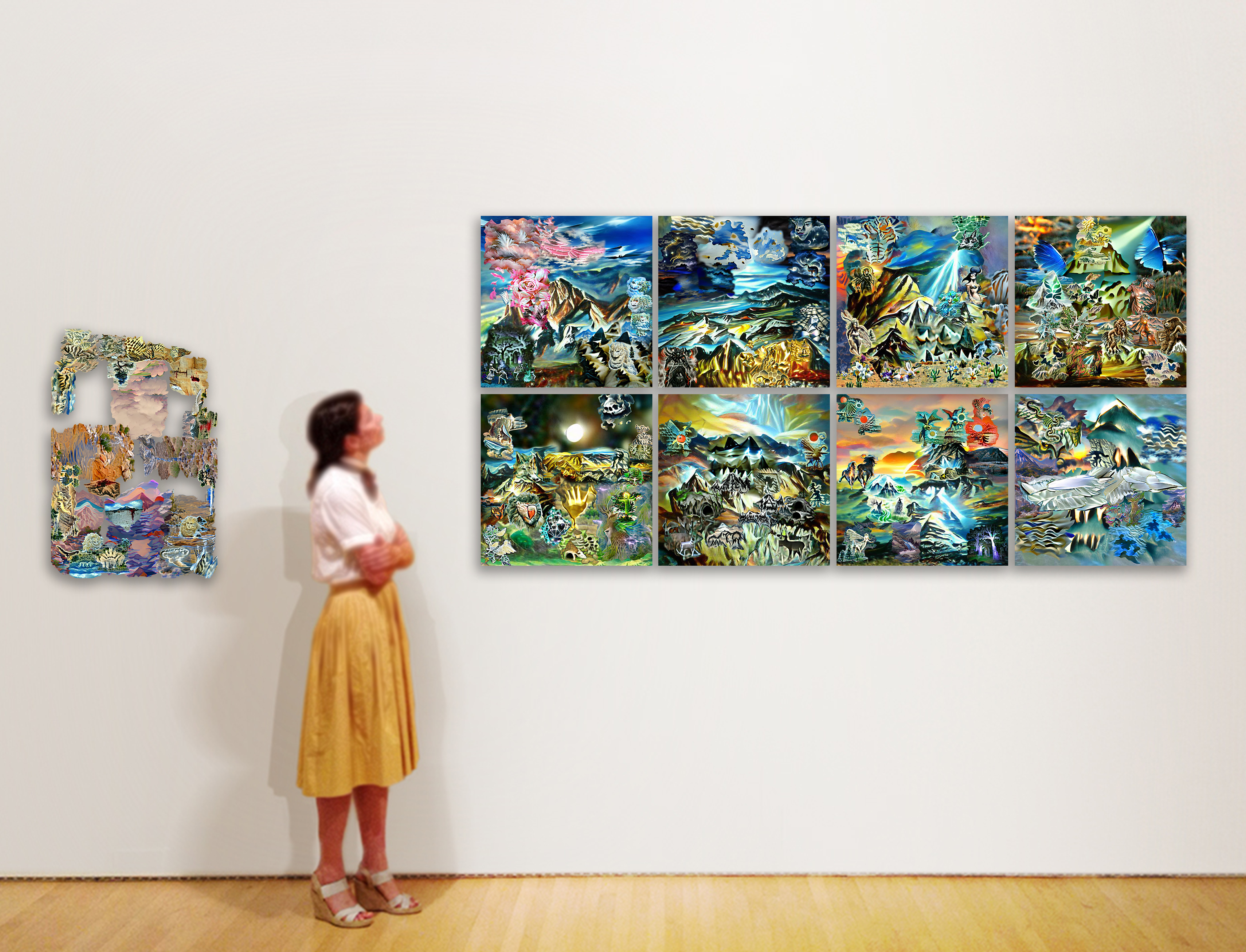 ---
MW II [tbd 2023]
…
---






_ _ _ _ _ _ _ _ _ _ _ _ _ _ NTP