digital collage, 17x9.56in. / 1920x1080p

   at East Window @ Boulder, CO
   curated by Literary Ladies - Toni Oswald and Sarah Schantz




---
studies in reflection (/brooding):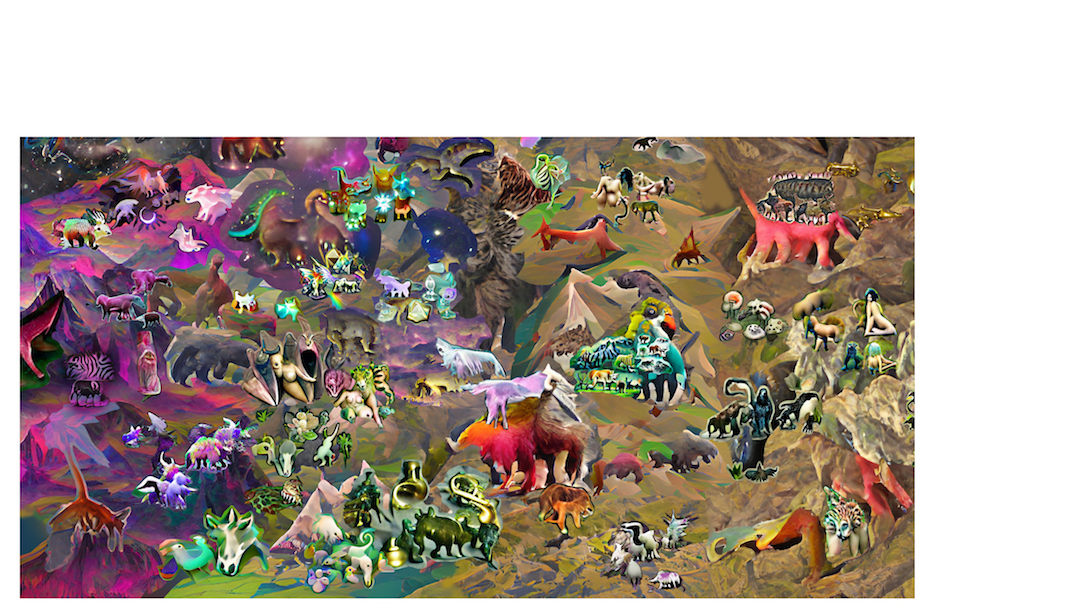 menagerie for frame, event crop / detail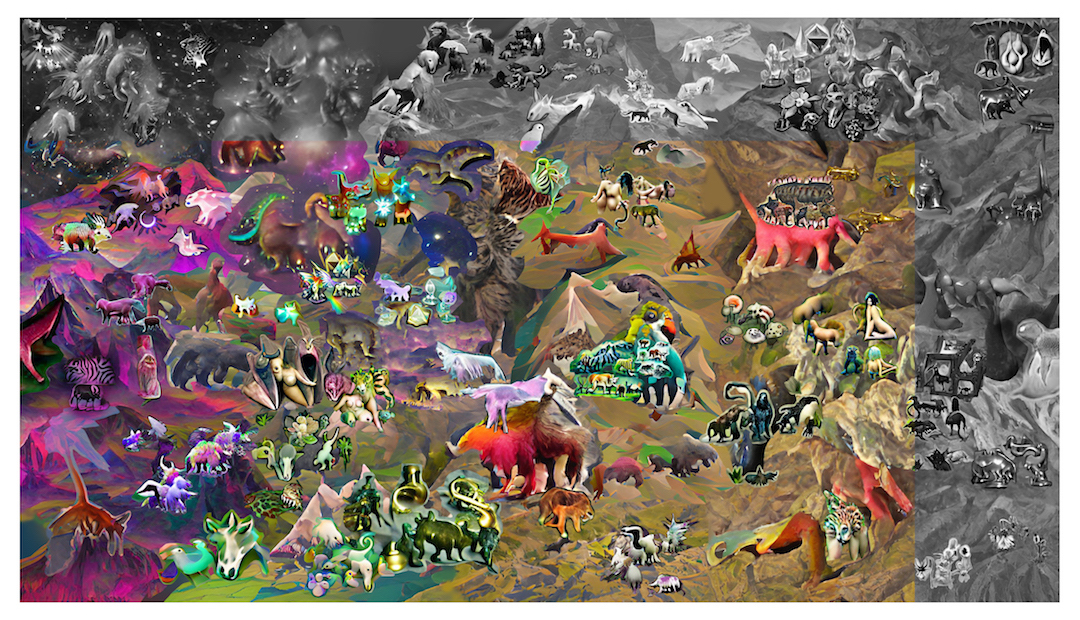 crop (gray)
crop (inverse, undiscovered, exclusive, extinct, marginalia, periphery)
---
Statement:
    Menagerie for FRAME is a digital collage created from a folio of images crafted through a dynamic interaction with various GAN / "AI" / algorithmic systems. It manifests visual complexity, multiplicity, and density, akin to a thriving and diverse ecological system teeming with unique animals; flora, fauna, and fungi. This anthropocene assemblage amalgamates numerous individual elements, escaping the confines of the frame, as well as evading sense, reason(s) for being / not- or un- being... In contrast to the species imperiled by the Sixth Great Extinction, this menagerie presents an alternative narrative — a glimpse of a posthuman world devoid of humans but abundant with diverse animal life. Its resemblance to the Phanerozoic eon and the Cambrian explosion gestures to —an age unaffected by human intervention, where biodiversity flourishes exponentially. As this posthuman menagerie springs to life, it serves as a window into what could be, a world thriving with diverse animal life, absent of human influence, and embracing the wonders of unbridled existence.
---




Bio:

Mid-July 2023 (for FRAME)    

Noah Travis Phillips

is an artist, educator, and scholar (BA, Naropa University, Fine Art and Environmental Studies; MFA, University of Denver, Emergent Digital Practices). They create adaptable and multicentered artworks about a mythic anthropocene and posthuman world by activating appropriation and digital/analog remix and collage strategies, and working with both a personal media archive and open algorithmic systems. Their work incorporates 2D / 3D digital fabrication, videos, installation, performance, and the internet. Phillips is Assistant Professor & FabLab Coordinator at Rocky Mountain College of Art + Design. They have exhibited extensively locally, nationally, internationally, and virtually. They live and work in Boulder, Colorado and can be found online at

www.noahtravisphillips.com

.




________________________________________________


*