Noah Travis Phillips Light My Pyre @ Lane Meyer Projects ~ LMP PDA

Noah Travis Phillips
Light My Pyre, 2020

collage, (29) graphite drawings on paper
39 in. x 59 in.
LMP PDA
(
@lanemeyerprojects
)
100% of $999 → Wildlands Restoration Volunteers
for original
100% of $333
for limited edition of 3 full-size prints (+ 1 A.P.)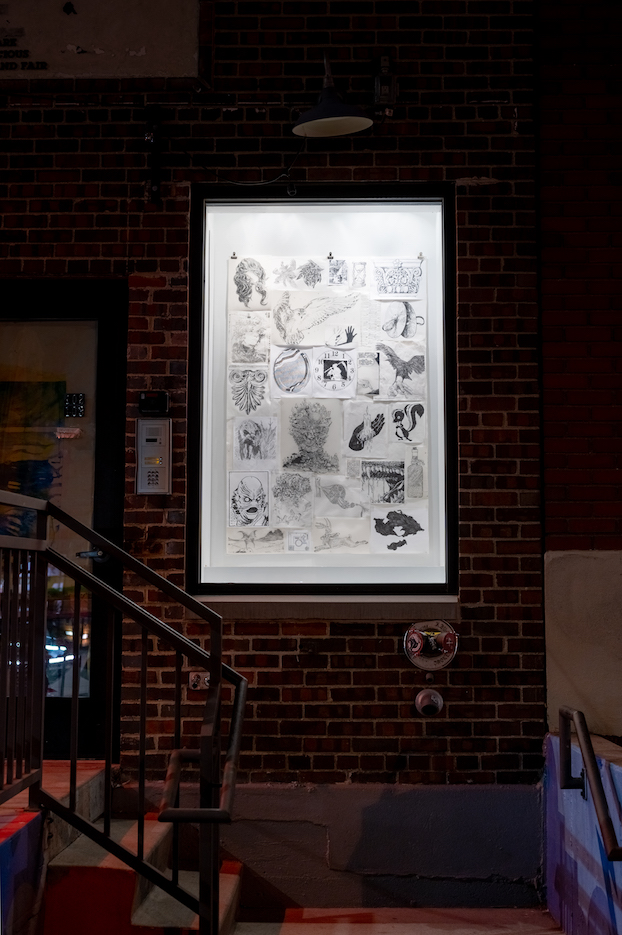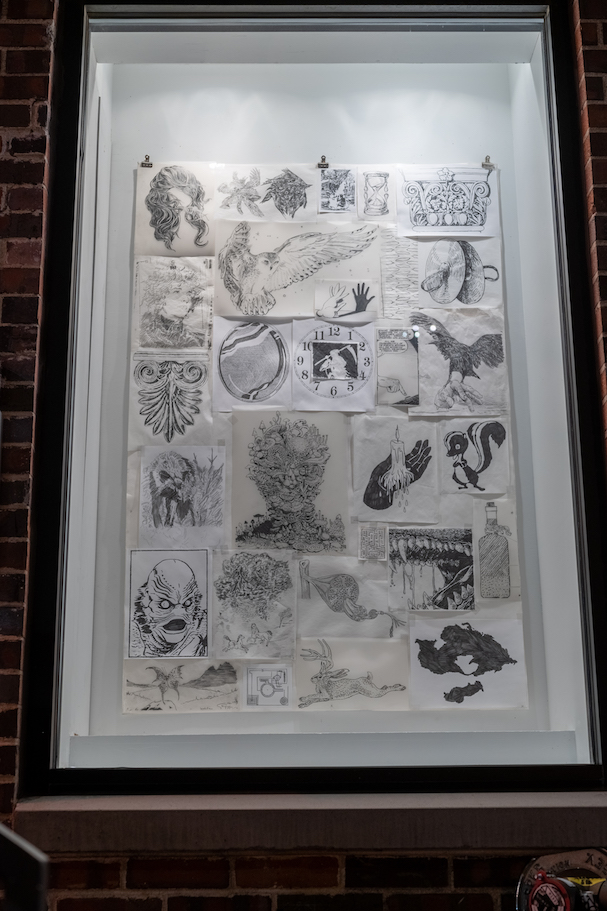 photos courtesy John Roemer
---
themes = life (as rebellion) & death, other&more-than-human perspectives, nature, senses and materials, Anthropocene (as era of vengeful nature and human reflection/reinvention), rebellion as cultivating alternatives (approaches and lineages), rewilding, intimate mythologies, deep time, complexity, fear and "staying with the trouble" & etc.

each image is a species, or a kind of mark, each is also made of marks, graphic marks and conceptual marks, collages of concepts, themes, perspectives, aesthetics act as different kinds of space, and/or diverse voicings, the composition can be 'read' as lines of a poem, or else like a comic, you can also trace different trajectives of (inter)relationship through the composition (visually or textually). much like a circuit or even a modular synthesizer, likewise the images have been synthesized, the composition is an ecology …


hair as wind
beautiful anime Bob Dylan
teaching totem
black wolf
creature from the black lagoon
butterfly in landscape (Sandman)

/

hair in wind
proginoskes flying
(snow)owl hunting
rabbit with human hand shadow
dreamachine
cymbal!

/

rabbit with shadow shaped like human hand
clock with no hands (death on horseback)
finger above "red button"
crow flying away with human hand
… →

life & death, strength (and violence, and health. I am feeling myself aging, very aware of my physical state(s). I am thinking of mortality and striving, I am trying to celebrate what I can,
the candle burns, we (& I) have made certain choices,
The human is represented by a poet, but also a rockstar, longhair and someone in costume as a vengeful earth monster.
There are many animals, see how many you can find.
2 proginoskes
snow owl
rabbit
horse(corpse)
crow
skunk(works)
dog (barking mouth)
jackalope
2 horses
butterfly

… Nature makes itself known in a number of ways: wind in hair, landscape(s), storm, pangaea ultima, pareidolia mushroom being,
The spiritual (/sublime) is represented by? – self-immolating monk (
Thích Quảng Đức
), and the column capital as cloud,
dreamachine
/cymbal, hourglass,
labyrinth
, mirror, death on horseback in clock with no hands,
it seems like the Elements are present: fire, earth, wind, water, metal/heart.
…
trying to help the Earth/planet/nature/ecology/beyond-human, &etc. Actively engaging in healing, putting your (queer) shoulder to the wheel, your body into it.