for New Media Caucus 2022 ~ Future Bodies Symposium & Exhibition




demo 1 v1 (sketch)

bodyGANscape reh 1 Noah Travis Phillips self-portrait ~ (as if) installed at Moss Arts Center, Virginia Tech


(three details)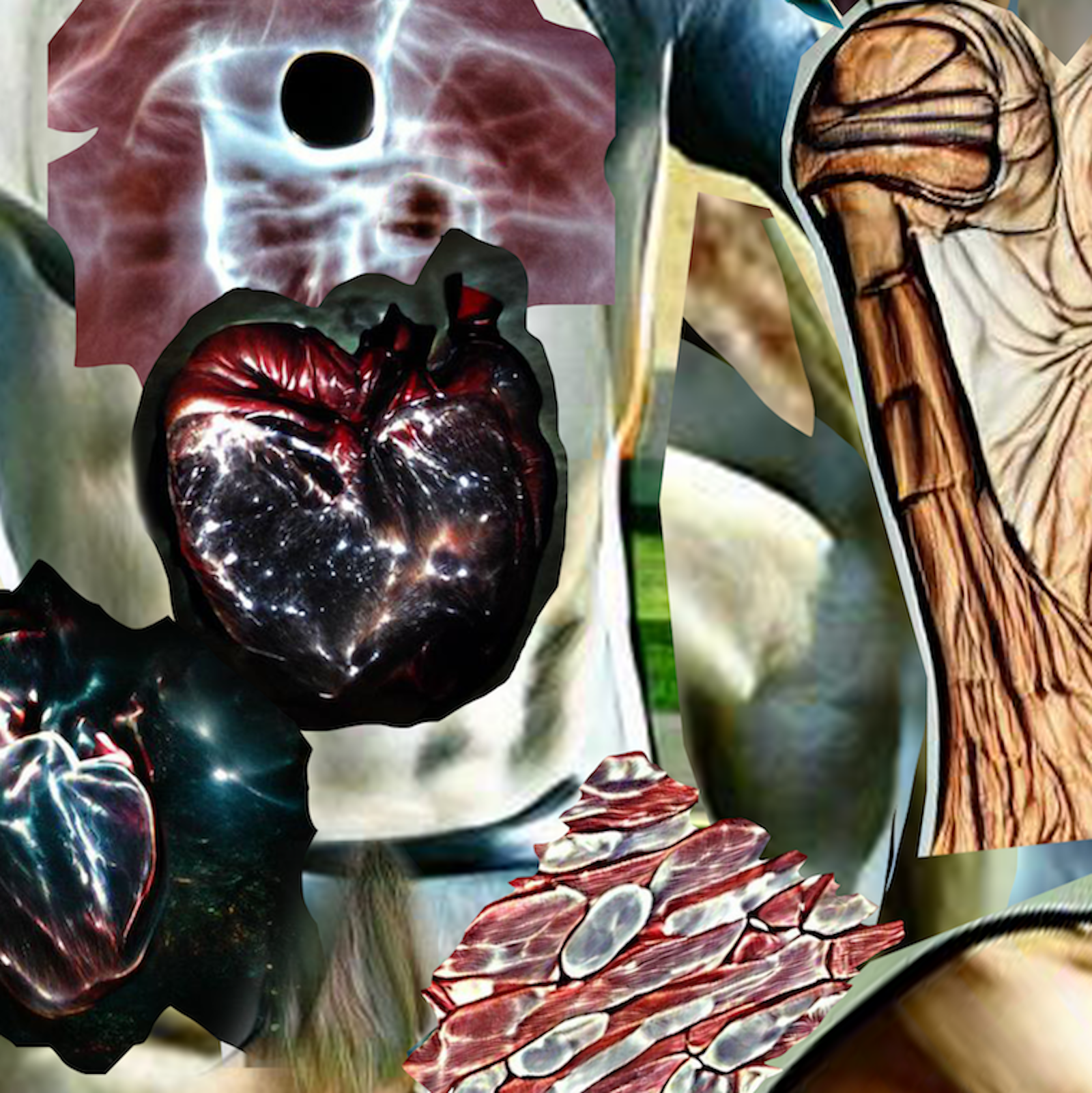 bodyGANscape (NTP self-portrait) is a self-portrait collage developed by working with multiple cloud-based GAN (Generative Adversarial Network) to produce material to collage into a more complex and multifaceted design. The collage is created digitally and realized, in this iteration, as a large-scale photomechanical reproduction. bodyGANscape was made in dialogue with an algorithmic system, with a GAN, it acts as a form of ekphrasis / reverse ekphrasis (making images with words). It is a continuation and expansion of my research into creativity in dialogue with algorithmic systems. This collage explores the body as multiple, multi-faceted, parts of body "the stitch" via cárdenas …
The words and phrases fed to the GAN help to provide an elaborate title for the piece, as well as a poem that seeks to balance desires and obstacles of relationship and collaboration. The text(s) act as various entrypoints for viewers, a poem, a script, a dialogue.
The GAN introduces chance, collaboration, and improvisation. The body/being(s) grown from this process is in flux and mutation. The chimeric, hybrid, cyborg creature created through this process presents the body in a myriad of form, but with its feet on Earth, and reaches up into space. This scene depicts the body as fleshly machine, a kind of spaceship, and echos ideas of "spaceship earth".
The piece itself will take the form of a large-scale photomechanical reproduction, at the size of the artist, six-feet-tall, and two feet wide, with an atmosphere of other images surrounding it (7ft. x 2ft in total), showing that the artist, we as humans are in space and on the Earth – we are always immersed in a context (a somewhere that we are in immediate and eternal relationship to/with).
The imagery is by turns diagrammatic, abstract, chaotic, surreal, psychedelic,
the figure is beguiling, constructed and encrypted, erotic and animal, botanical, dispersed and graphically visceral.

---
poem

tattoo of a flame on my arm
angel on shoulder
devil on shoulder
muscle cells
long red wavy hair
leg(s) of chimera(s)
body/ies
human head long hair
heart in the dark night of outer space
singing mouth(s) of the mountain
shoulder anatomy
surrealist biceps
human right hand
beautiful eyes
feet of dancer(s)
left arm anatomy
muscular long left arm
deep outer space (yonic)
hanging (phallic)
(fe(male))bodies
body long hair
black hole in human heart
long sculptural neck
athletic torso
swift running futurism sculpture
beautiful statue of knees
shins legs statue
long right leg muscles
flesh and blood
chimera feet
deep outer space
animal feet running on ground
lightning strikes over a mountain
deep outer space
misty mountain
aurora borealis over snowy mountains
weather storm mountains